Student Dies After Tweeting 'Thank You God' For Life
A North Carolina student college student suddenly collapsed and died in class on her 21st birthday on Tuesday afternoon.
"Thank you God for another year of life," Gardner-Webb University student Ariane Noelle Patterson tweeted some seven hours before becoming short of breath and falling to the floor during her religious studies class, Charlotte's WSOC TV reports.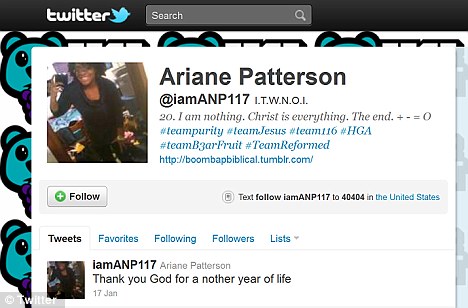 Patterson was taken to Cleveland Regional Medical Center, where she was pronounced dead, the news station reports.
Cleveland County Coroner Dwight Tessneer said Patterson died of a heart attack caused by lupus, a condition which she had suffered from since age 9, according to the Shelby Star.
According To The Huffington Post: The university released the following statement on its Facebook page:
We are deeply saddened and in shock by this monumental loss. We pray for Ariane's family and friends during this difficult time, and hope they will somehow find peace in the midst of this tragedy. No words can truly express how we collectively feel as a university during this time.
"She would be so weak at times. I wanted to put myself in her place. I never let her see me cry," Patterson's mother Connie told the Shelby Star.
School spokesman Noel Manning described the religious studies student as a devoted Christian with an infectious smile.
"It's really sad, but I know she's up there with Him now, smiling and having a good time," Ariane Patterson's friend told the Charlotte TV station.