UCLA To Make Co-Ed Roommates An Option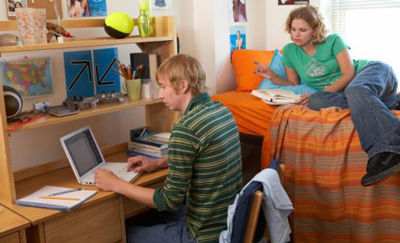 The University of California at Los Angeles (that's UCLA to you) is flirting with the option to allow students to request a co-ed roommate for the 2012 academic year.According to UCLA's Daily Bruin, the On Campus Housing Council received an official proposal for gender-inclusive housing last year, which led to the approval of a single room to serve as a pilot for the program. So far, according to the Daily Bruin there have been no complaints from the two roommates.
Suzanne Seplow of UCLA's office of Residential Life confirmed to Jon Baird of KNX 1070 that the proposal is indeed under consideration. She said,
"UCLA is just following suit of this national trend"
of taking into consideration the roommate needs of people who are transgendered — that is, someone who is born one biological gender but identifies as another gender.
As Seplow said, UCLA is just following in the footsteps of many universities who have chosen to take the plunge this year. Ohio University's LGBT Center advocated for a one-year experiment in co-ed housing for this fall quarter, reports the Associated Press. The gay community at Grand Valley State University in Michigan have also successfully lobbied their school to offer "gender neutral" rooms for gay and transgender students this year, according to the Grand Rapids Press.
And of course, this year Rutgers University will be allowing students to choose roommates of the opposite sex in a "gender-neutral" room. The move is in response to student Tyler Clementi's tragic suicide in 2010. Clementi was reportedly driven to suicide after his straight roommate secretly filmed and webcast him being intimate with another man.
via huffingtonpost