Bright Futura's Netflix Club: Robotropolis

Robotropolis
Robotropolis Finds an Innovative Way to Tell a Tired Story
"I love it. It's like totally awesome. Come on, it's robots! Doesn't get any better than that, right?"
Plot Breakdown
In a movie where the narrative is told through a news broadcast format for over 50% of the run time, the interviewees become just as important to the story as the camera guys, producers and anchors. About ten minutes into Robotropolis, a man is interviewed about whether he likes New Town, a city run entirely by robots. His overly enthusiastic response was similar to my own response when I found this obscure movie on Netflix.
Thoughts On Robotropolis
Better graphics than I was expecting and some modest gore, both of which are not overdone or totally unbelievable.
The concept alone was cool enough to capture my interest and allay any critical misgivings I might have had going in to this B movie, which is to say that this is not something that I would normally do. However, I was pleasantly surprised. The actors never try too hard to be serious, a necessity in campy movies such as this, which is comically evident from the two male leads of Jason (Edward Foy) and particularly Danny (Graham Sibley) who are cracking jokes while running for their lives.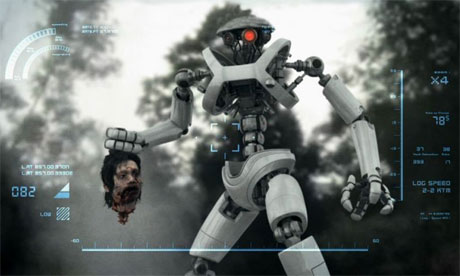 An interesting aspect of the presentation is that the final news report is sent via live feed off of a smart phone. It just goes to show that no matter how low of a budget these B movies have, the current availability and cheap pricing of advanced video technology will allow even more people the opportunity to make decent grade films for next to nothing. Evidence of this comes from better graphics than I was expecting and some modest gore, both of which are not overdone or totally unbelievable. However, all of these great things don't cover up the weak story being told.
Trailer
[youtube http://www.youtube.com/watch?v=mlHrcXS0Dj0]
Drawbacks
Weakened by its extended use of the news report narrative structure, the film is fairly slow for the first half of the film… Until the robots attack!
While the innovative story telling is definitely ambitious, you are most likely watching a movie about killer robots for the killer robots.
All killing aside, the news format does allow you to watch the first kill, which is early on in the movie, a grand total of seven times from replays for the meta-viewers who are just tuning in.
The other drawback of the news format is its field reporter, Christiane Nouveau (Zoe Naylor), who agonizingly continues to describe the deteriorating situation in New City.
Being the only "real" actress with any credibility or experience in the cast, she provides the worst performance by trying too hard. Apparently nobody told her what kind of movie she was in.
Final Remarks
Concluding with a weak response as to why the robots "turned", a lackluster climax but an ending open for interpretation
Robotropolis proved to be a fun movie to watch when I had run out of options. Watchable
Alex Dodson | Bright Futura Columnist
Remember to follow Bright Futura on Facebook, Twitter, or you can subscribe to our RSS feed.