How Not to Die In College: No Four Year Fears
No lie, it's been a long time since I've been an undergraduate freshman, but now that I'm a graduate student in a new school and in a new state, I'm finding many parallels to then and now. To keep things interesting I will provide some sage-like advice from someone who has already graduated, in my series HOW NOT TO DIE IN COLLEGE (HOW NOT TO DIE INC).
How Not to Die In College Presents:
No Four Year Fears
Each year in college is like a movie and you play the character moving from one sequel to the next. Each year of college helps change you in ways you may not recognize at first, but will ultimately recognize as an important events in your life. Freshman year and Junior year of course turn out to be the most important years.
Freshman year-

The Foundation
Freshman year sets the foundation for your college career.
Freshman year is the start of your new life, it will set up your first few true friends, a rough idea of your new schedule– if you're commuting or living on campus, and will expose you to the new world known as college.
What you need to know– that most people won't tell you:
You don't need to decide a major now. You have time!
Join an organization; get to know a lot of people.
Your sleep schedule will disappear, if you're reading this at 5 am you understand.
Sophomore Year-

Settling In
Sophomore year is the settling of your college everything
Your second year of college is more of Freshman year on cruise control. You finally settle into the swing of things. You realize who and what is important when it comes to friends and organizations. It is also a good time to continue what social networking skills you started Freshman year and branch out to the other people around you.
What you need to know–that people won't tell you:
Start considering your major, you don't need to know it now. You should have at least have an idea. Ask yourself the tough life questions.
If your part of an organization, try to get a position on their executive board. These positions look REALLY good on a resume.
Some of your friends who started with you in Freshman year might not make it to Sophomore year. Grades, financial aid, and or just not liking the university will force them out of the University.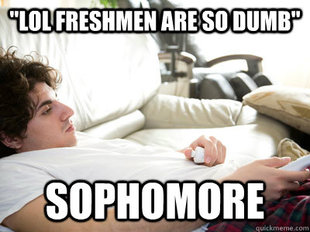 Junior Year-

THE BIG YEAR
Do it big this year
Junior year in many ways is your most important year out of all four. By Junior year you should have finished most of your general ed classes. By now you should also have decided on a major.
Junior year is your prime year of college, you know enough people on campus through clubs, parties, and social events, you know all the shortcuts to and from class, you're no longer as lost as a freshman or as stressed as a Senior about graduating.
This is also a good time –if you haven't begun already– to start an internships, study abroad, and / or be president of an organization. This big year is the year to beef up your resume and explore the depths of your school's opportunities.
Please Remember: Deciding a major is not the same as deciding your career. You can also work toward a new career after you have earned your degree.
What you need to know–that people won't tell you:
If you make it to your Junior year, there's a very good chance you'll be graduating. Freshman and Sophomore year weeds out people who aren't suited for college but once you make it to the junior year, you're pretty much set.
DO IT! This a time to try something new this year. Study Abroad opportunities are my favorite. If you receive financial aid (ie. Fafsa) for the fall or spring semester and you study abroad during either of those semesters Fafsa may help pay for it.
Start an internship the summer of your junior year, do your best at it, and hopefully they'll offer you a chance to come back next summer as a paid intern or better as a paid staff member.
Junior should be spent preparing yourself for senior and post graduation. This way you don't save all the hard hitting questions for your senior year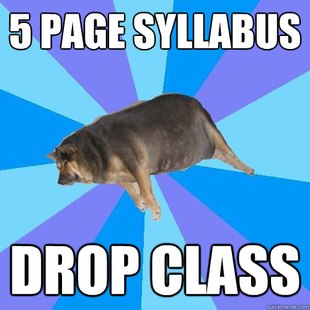 Senior Year-

Finality
Senior year is 50% busy work and 50% quarter life crisis
Senior year is the year to finish all the things you wanted and needed to complete. This final year is the year you can try out all the classes you always thought were interesting but never had room for in your schedule.
If you set up your classes correctly you will most likely be able to take a least one or two B.S classes.You also will have the freedom and know how to take the challenging upper level classes you were always too scared to take.
Classwise you should be quite relaxed but you have to worry about GRADUATION and GRAD SCHOOL/WORKFORCE.
What you need to know that people won't tell you:
If you're planning to go to graduate school start early. Find at least 5 schools you're thinking about going to and apply,
Please note: Most grad school applications are due pretty early in the spring semester. Deadlines for master's programs tend to hit in January, February or March which means you should start in December or January.
Don't be worried or upset if you don't graduate in 4 years. The new normal graduation rate is 5 years, don't be worried if you have to stay an extra semester for an extra year, as long as you graduate and get your degree.
No matter what happens in to you –the main character– of this wild story, I encourage you to remember that college is a monumental movement in your life. Each chapter will tell of a new journey and unforeseen dilemma and each page will bring new character flaws and even the occasional triumphant victory.
Always remember that you are both the reader and writer of your own novel. So keep your nose in your books, keep your pencil to the paper and keep loving what you do!

Leon Langford | Bright Futura Columnist
Remember to follow Bright Futura on Facebook, Twitter, or you can subscribe to our RSS feed.