Posted on December 6, 2012
Winter break is approaching and finals week is days away. In fact it may have already begun for some of us. Either way both worrisome events are worthy of focus.
As you cram all the knowledge you've learned throughout the semester into your tiny little head, you are also expected to cram all of your belongings into trash bags and plastic bins. Sounds dreadful doesn't it? There there now young one… So rather than going it alone, I have decided to create a simple and painless way to begin packing for winter break.
Think Of It As A Way To Cram While You Cram!
1. Procrastinate The Right Way
If you are going to take breaks from studying, you might as well use that time to clean and pack. Rather than spending your time watching reruns of scrubs and twiddling your thumbs, try putting those hands to work. Getting a jump start on packing can make a world of difference and studying in a clean room has been proven to help the mind focus.
Related: 7 simple ways to keep your dorm clean
2. Toss What's broken:
If you have a bleach-stained t-shirt or an irreparably busted desk organizer, throw them out. In fact if you have anything you don't want and know you haven't used it, donate it or toss it.
Getting rid of unuseable things now will reduce the amount that you have to contemplate packing and will allow you to beat the rush at the school dumpsters.
Take Notes: Freecycle and Craiglists are a good way to turn your trash into treasures.
3. Start Eating All Those Non-Perishable Snacks
If your parents or family has sent you care packages full of food that will survive an apocalypse (e.g canned foods and Ramen) EAT THEM! Trust me you aren't going to want to take them home with you. They will most likely end up getting in the way while you are packing up and thrown away as you leave. Rather than letting good food go to waste try having a study break potluck party!
Related: 119 Ramen Noodle Recipes
4. Start Boxing Knick-knacks
"This is more applicable to people who are graduating early, going abroad, or changing residence halls. If you're in those categories, however, it's key.
If it's not nailed down or wearable, it can probably start being put away.
Good contenders for this are theme party costumes (you probably won't need the devil trident before the semester is out), photos that you have taped up to your wall, and obscure kitchen items that belong to you (like that lasagna pan no one has used this semester)." -via Hackcollege
5. Recycle Your Papers
If you take paper notes, scan and digitize them in Evernote once classes are over. That way, you can recycle the paper and avoid lugging it home or storing it for the next semester. The same goes for any documents you may have picked up during the year–I know that I have ads for the study abroad department, a welcome-back barbecue, and a Thai take out menu sitting on my desk. All of those are stressing me out, and all of them can be recycled now.
Take Notes: Paper scanners can help save space and the environment if you recycle your class notes.
Break down your things over a few weeks rather than a cramming into a few days at the end of the semester will help reduce the amount of things you have to pack while lowering your stress load. Finals time is stressful–am I right or am I right?
Maximillian Garland| Bright Futura Columnist
Remember to follow Bright Futura on Facebook, Twitter, or you can subscribe to our RSS feed.
Of course, not all students' needs are the same — students in medical studies, for example, may not require might need a powerful computer while students engineering and computer science may.
But, generally speaking, here are 12 expenses campus life doesn't absolutely require:
12 Things College Students Don't Need
1. New textbooks
Never ever ever buy a new textbook from the box store.
While the convenience may be tempting you honestly should never buy from you school bookstore. There are hundreds of textbook sites online now, and even programs that will find you the cheap priced textbook and the place to buy it.
Disclaimer: Bright Futura receives a kick back for all books purchased using this tool. Help support Bright Futura by purchasing using our free textbook tool
You can also see if there is a free downloadable e-book version
Advantages to getting an E-Book
1. Some things don't get better with age.
Paper textbooks are expensive to produce and expensive for schools to buy.  And as books are passed along from one student to the next, they get more highlighted, dog-eared, tattered, and worn.
2. Heavy backpacks. Weighed-down students.
It's no secret that paper textbooks are heavy. But what you may not know is that backpack weight is an increasing problem among kids. Studies show that heavy backpacks can lead to both chronic back pain and poor posture — and many kids are carrying a quarter of their body weight in textbooks. -Apple
If online textbook shopping isn't your thing or the book can't be found see if your university has an old edition.
More and more universities are offering textbook rental programs to help students avoid paying unfathomable new-book prices. Check to see whether your university offers a rental program, which is most often available for the school's core-curriculum and prerequisite classes.
Ask a friend to go halves on it. Often times the books you are looking for have already been purchased by a friend or at least need to be. If your friend is no longer taking the class ask if you can buy it from him/her. Or if you and your friend are both taking the class split the cost and study together! Knowledge is power.
2. A Top of the Line Laptop or Desktop Computer.
This is dependent on your preference but the reality is that an inexpensive laptop or desktop should do the trick. In fact I didn't even have a laptop for the first 2 years of college. I survived…barley. I would note however that while netbooks are cheap, their small keyboards and slow processing speed really suck.
3. A Printer.
You have two options, you can skip the printer all together and just print from the school labs which will save you money on the printer and the ink or you can g a cheap/free printer on $50 for a printer, $30 a pop for replacement ink and $9 per pack of paper.
If you decided against buying a printer: For about $10, you can buy a flash drive instead, save your 20-page term paper on it and print the paper in the campus computer lab, which btw you're already be paying for in tuition!
Flash drive
Send yourself files via gmail
Use Dropbox
Use Google Drive
Take Notes: Some schools include a technology fee in room-and-board costs — $100 per semester in some cases.
4.  A Pricey Smart-Phone Plan
While I personally have a smart phone and would kill anyone who tried to take it from me, they aren't a requirement for college. Especially if you can't afford/need it.
Fortunately, there are less-expensive, no-contract alternatives. Consider Virgin Mobile's Beyond Talk Plan, which uses Sprint's Nationwide Network. Plans start at $35 a month, for which you get unlimited Web, data, messaging and e-mail and 300 Anytime minutes. Simply buy a phone, select a plan at www.virginmobileusa.com, activate it on the Web site and manage your account online.
5. Cable TV
I personally don't understand having cable tv at any point in life. Their are hundreds of things to watch and do on the internet and real life. However, if you're a huge tv buff I'd suggest you
1. Cut back, watching TV isn't a good look!
2. Cut this additional expense by accessing a wide variety of current entertainment and news online.
You can stream programs from your computer or a Web-enabled device, such as an Xbox 360 gaming console, a Playstation 3, a Wii or a TiVo:
TV Shows: XfinityTV.com and Hulu.com, for example, let you download TV shows free. You can also catch recent episodes of your favorite shows at the networks' own sites. Hulu.com now offers Hulu Plus, which for $8 a month gives you access to more than 1,000 seasons of current and classic TV shows, hundreds of movies (including films from the Criterion Collection) and limited commercial introduction in 720p high definition. College students can get a one-month free trial if they sign up with their .edu e-mail address. Movies.
Movies: Netflix offers for $8 a month unlimited TV episodes and movies streaming online through a Web-enabled device.
Sports: WatchESPN (formerly ESPN3.com) streams live broadcasts of professional sports, such as professional baseball, basketball, golf, soccer and tennis, and of course college basketball and football. You can stream WatchESPN content to an Xbox 360, but you must have an Xbox Live Gold membership, which is $10 a month, or $60 a year (same goes for streaming Netflix content with the Xbox 360).
6. A Car
In a nine-month academic year, according to AAA, the average small sedan would rack up about $3,000 in expenses, including costs for gas, standard maintenance and insurance. Parking permits and any tickets or breakdowns would add even more to the bill. Keeping the car parked at home could lower insurance premiums, too.
7. A Credit Card
The average freshman who has a credit card has nearly $700 in card debt, according to a recent study by Sallie Mae. To curb the frivolity of first-year credit card spending, Uncle Sam is now enforcing stricter credit card rules. Anyone younger than 21 is required to prove his or her ability to repay any debts or have a parent (or someone else 21 or older) co-sign the card application.
Help your student stay in the black by withholding your signature until he has a long track record of fiscal responsibility. A debit card is a good way to get started.
8. High bank fees
Open an account at a bank that is close to campus and has nationwide coverage.
Don't use an account with the hometown bank at college. Otherwise you could spend up to $5 when withdrawing money from an out-of-network ATM.
Consider opening an online checking account with a bank that doesn't charge ATM fees or that refunds ATM surcharges by other banks.
Be sure to read the fine print: Some of these banks do not refund ATM fees beyond a certain amount, and some require the account holder to maintain a minimum account balance every month.
Open an account with a credit union that belongs to a surcharge-free network. Click here to locate one.
9. Overdraft protection
You now have the option when you open an account to opt out of overdraft protection. That means the bank either will not permit you to withdraw funds if your balance is too low or will ask whether you want to pay a $35 fee and proceed with the withdrawal. This is not a one-time decision; you can switch your preference if you decide you want the bank to cover overdrafts. Checks and recurring payments that cause you to overdraw the account are not covered even if you opt out, so you can still incur hefty overdraft fees.
10. A Big Meal Plan
Often, the money you spend on a meal plan does not roll over from year to year — if you don't use the money, you lose it. Best to start low and see how much you eat. Many colleges give you the opportunity to replenish meal-plan funds midyear. You could also supplement your meal plan with gift cards to the local grocery (or pizza joint). Or you can buy gift cards at GiftCertificates.com.
11. Campus health insurance
If you have family health coverage, your child may still be covered under that plan when she goes to college. If your plan does not cover out-of-network costs, a campus health-insurance plan may be a more cost-effective option. Be careful, though: Some college policies have low coverage maximums, which could leave you with thousands of dollars in uninsured expenses.
12. Private loans
The hefty price tag on higher education makes it hard to avoid student loans, so steer clear of private student loans.
They usually carry variable rates (as opposed to the fixed rates of federal loans), have fewer repayment options and allow students to rack up high balances. (See Be Wary of Private Student Loans.)

Maximillian Garland | Bright Futura Columnist
Remember to follow Bright Futura on Facebook, Twitter, or you can subscribe to our RSS feed.
Whether we are stalking people on facebook or building applications for iphones, we all have to admit we spend countless hours of our day in front of our computer screens. But our bodies weren't made for such lack luster activity. While our minds explore the universe that is the internet, our bodies are stuck planted in our seats doing jack shit.
Related: 20 Amazing iPhone Apps Developed By Students
Thus, the pedal powered desk was born! The stationary bike/desk hybrid is nothing a new idea. But, I've never seen one that looked this swagged out. The great people at WeBike did a phenomenal job creating an amazing piece of function furniture that could work well in any college dorm. Well that is if WeBike wasn't charging two years of tuition for one bike.
The current asking price of the WeBike creation is $13,000 (haha please).
I mean the concept and design is nice though. It even has an LED ring display in front of each seat that tells you how much power your generating. According to We-Watt, the system can generate around 230Vac/30Watts of output per seat.
Maximillian Garland | Bright Futura Columnist
Posted on November 16, 2011
I am no stranger to dirty dorms. I'm not a neat freak, but I'm not a slob either. I've had sparkly clean roommates, a roommate who puked in the sink over Christmas Break and didn't clean it up till school started back…yeah gross.
Over the years I've learned that keeping your room clean, not only helps clear your mind and keep you slightly less stressed but overall it helps keep your college life in some resemblance of order.
So below I have outlined 7 Simple Ways to Keep Your Dorm Extra Fresh
1. Live Like Your Mom Is Coming Over.
Nothing gets a kid moving faster than the threat of parents nagging. I find it helpful to put stuff away under the threat of nagging. Just keep it clean the way your mother would.
2. Don't Put Things On The Floor.
I had a roommate whose closet, desk, and plate was the floor. Shirts, shoes, chicken bones, hangers, paper plates, essays all on the floor. There is nothing worse than waking up in the morning, swinging your feet off your bed, and stepping into someone's boxers. I got fed up and duct taped off our sides of the room. The effect was instant. Keeping a clean floor, gives the room more of a clean appearance leading to my next point. Continue Reading
Posted on November 16, 2011
ST. MARY'S CITY, Md. — Kimberly Fitzgerald, a freshman at St. Mary's College of Maryland here, loves it when people ask where she lives.
"It's a good story to tell," she said. That is because Ms. Fitzgerald and 239 schoolmates live on a cruise ship that was converted into student housing after an outbreak of mold shut down two dorms on campus. The closing forced students into hotels miles from campus, and Ms. Fitzgerald, 18, stayed in a Holiday Inn that was a 45-minute drive from campus. Continue Reading
Posted on October 25, 2011
We all know with craft blogs that original ideas are often hard to come by, we find ideas we love and make them our own but we didn't come up with the idea ourselves.  I feel like I've finally done something original here and I'm excited about it.
I'll show you the finished product and then explain.  (here)
Posted on October 7, 2011
IF YOU ALREADY CAN'T STAND YOUR ROOMMATE CONSIDER THIS  small one person camper designed by Cornelius Comanns from Germany. The Bufalino vehicle is based on the Piaggio APE 50 tricycle. It comes with folding bed, small kitchen, desk, and plenty of storage compartments.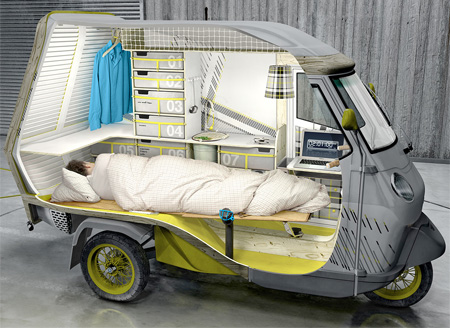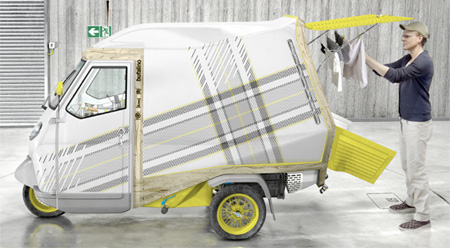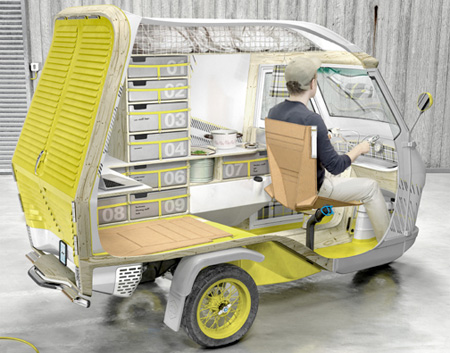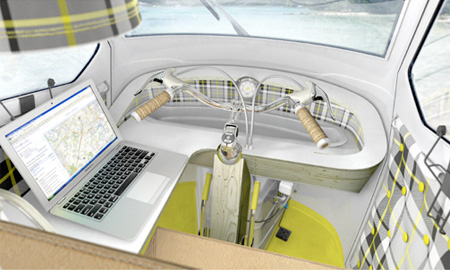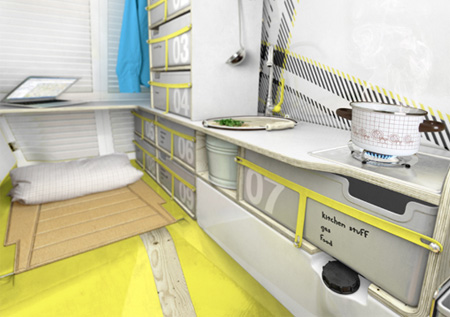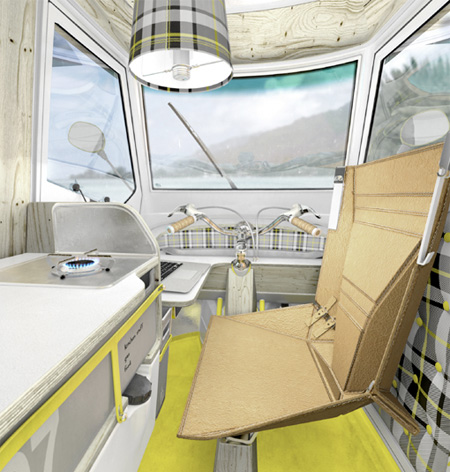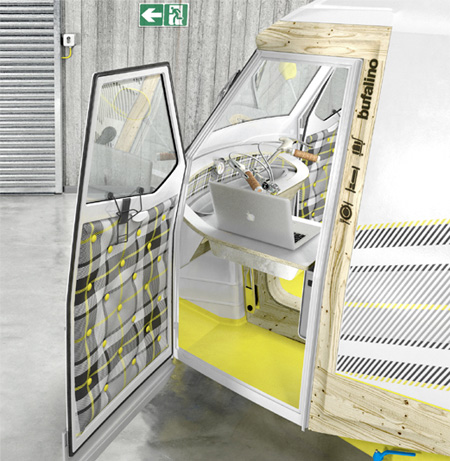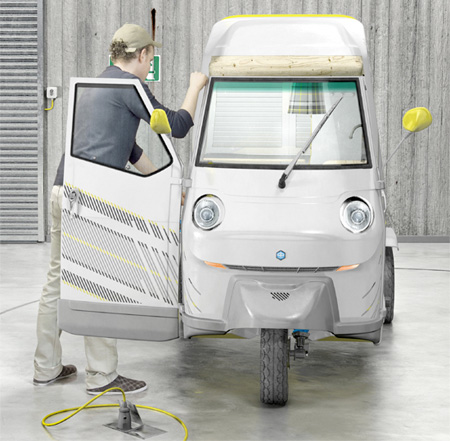 Would You Live In This Rather Than Live With Your Roommates?
Posted on October 2, 2011
Sleepbox is a self-contained room that can be placed in almost any location.
Designed by Russian architecture firm Arch Group, each box is equipped with two beds, LED reading lamps, WiFi, electrical outlets, and plenty of storage space for your luggage. Continue Reading
Posted on September 28, 2011
NOTHING IS MORE FRUSTRATING THAN HAVING YOUR LAPTOP COOK YOUR CROTCH AS YOU STUDY for a important exam. So we decided to look up the perfect solution. After reading reviews and checking prices this "laptop stand" while a little price is the perfect alternative to having your reproductive organs microwaved.
So, what's different about the LapDawg X4 Laptop Stand? First off, it's probably best to not call it a laptop stand since it does more than any other laptop stand I've ever seen. For example, not only can you put your laptop on it, but you can use it as a bed tray, bed desk, TV tray, book holder, and as you can see below, a drawing table for a toddler. The multi-uses are made possible because of the LapDawg's unique design.
[youtube=http://youtu.be/lroWGNyA3VI]
What would you use the LapDawg for?