Posted on October 16, 2012
If it's a funeral, let's have the best funeral ever.
This is the title card that opens up this incredible documentary chronicling the last 48 hours of the band LCD Soundsystem who performed their final three and a half hour show at Madison Square Garden on April 2nd, 2011.
A Little History of the Band:
LCD Soundsystem began in 2001 when their first single "Losing My Edge" gained widely favorable reviews for its new and electronic beat and the message that it conveyed. The band then released their first album "LCD Soundsystem" which also received highly favorable reviews. The head of the band, James Murphy, is a DJ now after his retirement and never wanted anything to come out of the band. He remarks in the film that, "…I never wanted to tour." Murphy just wanted to do what he loved and that was to make music. In 2007, their second album "Sound of Silver" was released with the singles "North American Scum", "All My Friends" (MY FAVORITE), and "Someone Great". By this time, the band was touring around the country, was garnering a very successful fan base, and along the way Murphy enlisted his friends to play with him at concerts. In 2010, their third and final album was released entitled "This Is Happening". Murphy's intention with the album was to keep it secret for as long as possible so as not to spoil it for any fans. The album was released on May 17th with subsequent singles "Drunk Girls" and "I Can Change", the former accompanied by a music video directed by Spike Jonze. On February 8th, 2011, the band announced that they would be playing their last show on April 2nd. When tickets were released the site crashed and Murphy went on a rant on his Twitter saying that he hated scalpers who bought tickets and were selling them for ridiculous amounts of money. In order for fans to see them the band played four warmup shows at Terminal 5 the days before the final show. On April 2nd, Murphy and the band played their final three and a half hour show accompanied by Reggie Watts, Arcade Fire, and numerous other friends and guests and just as fast and as crazy as the start of the band, LCD Soundsystem was no more.
The Movie:
The begins with the title card (See above) and immediately dives right into the final minutes before the show where Murphy and his band are sitting in the dressing room preparing for the show. What happens then is pure magic. The documentary wastes no time into getting right to the concert and the show begins with "Dance Yrself Clean". The movie is interwoven with intricate and beautiful shots of the diehard crowd, the band itself, and the morning after when James Murphy wakes up in his New York apartment to the licks of his French Bulldog, Petunia, who seems to be the most well-behaved dog ever almost as if she understands the conflicting emotions her master is going through. Also interwoven is an interview conducted a week before the show between Murphy and Chuck Klosterman. The shots of the band are so gorgeous though and they should be since so many cameras were used and some of the shots were filmed by great directors such as Spike Jonze. The songs played throughout the film are "Dance Yrself Clean", "All My Friends", "45:33″, "Sound of Silver (Intro)", "Us v Them", "North American Scum", "Movement", "Yeah (Outro)", "Someone Great", "Losing My Edge", "Jump Into The Fire (Harry Nillson cover)", and "New York I Love You, But You're Bringing Me Down".
Also watch for cameos by Aziz Ansari who can be seen crowd surfing during "Yeah" and Donald Glover who can be seen dancing during "Yeah".
The Review:
For those of you asking who LCD Soundsystem are and why this concert was sold out, I will tell you. The reason LCD Soundsystem is hailed as one of the most influential bands of the past decade is for 1) Their unique sound which combines an electronic, dance, punk theme with rock instruments and 2) Their ideas. One of the reasons people love LCD Soundsystem is because they always hated being labeled as something. They didn't want to be anything big or popular. They simply wanted to be. Murphy made LCD Soundsystem because he wanted to hear the music he wanted to hear so he thought he should make it himself. That's why LCD Soundsystem played to a sold-out crowd on April 2nd, 2011 at Madison Square Garden. Murphy also loved his fans. He cared about them and thanked them all for coming. He apologized to the people high up in the seats. He cared about his fans.
The ending to the film plays out so well in the story that even if you have never heard of LCD Soundsystem before you might get tears in your eyes when Murphy announces that it's their last song and "New York I Love You, But You're Bringing Me Down" starts playing. Murphy pauses a few seconds in and says, "This is my last time to do a dramatic pause." You can hear the sadness in his voice when he says this. The movie ends with white balloons falling down from the ceiling and a crying boy in the audience.
Why is this last show such a big deal? How are so many people affected by this? The big question on everyone's mind after the initial announcement was, "Why end a band at the top of your career?"
 Murphy gives two answers:
1) "When I was 39, I said I'm going to make an album (This Is Happening). I blinked and I was 40." Murphy started his career relatively late at around 30 years old. He stated that he still wanted to have a family and kids. Every time he went on tour he said he found new gray.
2) Murphy wanted to end the band at the top of their career. He wanted to be remembered. It was not a matter of failing. It was a matter of wanting to end on a high note. In my opinion, LCD got better with every album. Their first album was a beginner, "Sound of Silver" was a really fun time with good singles, and "This Is Happening" was the peak of their career with every song being something different. It's one of those albums that you could listen to over and over again.
Who wouldn't want to end their career at the top and be remembered for being on the top?
Is It Worth Your Money:
If you are a diehard LCD fan, then you should definitely invest in the Blu-Ray which has the entire show on its other two discs although I would recommend this to anyone since the music is SO enjoyable. You might find a new band you love.
LCD Soundsystem, I love you and you will always be remembered!
2012 is halfway over already and some of the most anticipated movies of the year have yet to appear on the big screen.
Since we have quite a bit of time before some of these movies come out in the next 6 months, I have thrown together a list so all of our readers here at Bright Futura can join me as we anxiously await.
I kind of cheated a little in my list and have broken it in to two separate sections. The first, which is in no particular order, lets me express my growing excitement for films already established in a prominent cinematic franchise. I found that putting franchise movies in to the mix with original movies to be a bit unfair, since there is already a fanbase and general anticipation to see what happens next in the string of related movies. One is a reboot, one is a prequel and one is a threequel, and they all belong to financially and critically acclaimed movie franchises.
Franchise Films
Title: The Amazing Spider-Man
Release Date: July 3rd
Cast: Andrew Garfield, Emma Stone, Rhys Ifans and Denis Leary
Franchise Status: Re-boot/Re-imagining
Why I'm Excited: Sam Raimi's Spider-Man trilogy has not aged well. I am one of the few who have seemed to embrace the rebooting of the franchise, not for monetary gain but for a quality upgrade. With a better cast across the board (except for the loss of Willem Dafoe's Green Goblin), updated effects, and a desire to make a movie about the man and not the mask, I believe that this version will ultimately prove to be superior.
Title: The Hobbit (Pt. 1) – An Unexpected Journey
Release Date: December 14th
Cast: Martin Freeman, Sir Ian McKellin, Richard Armitage and Elijah Wood
Franchise Status: Prequel part 1
Why I'm Excited: It has been just long enough for people to start to forget how much they loved the LotR trilogy when they hit theaters 9, 10 and 11 years ago. Well, here is a hard reminder of how Peter Jackson can steal your breathe, heart and attention for 3 hours with some fantasy and little people. Starting from the beginning, this film will make you want to go back and marathon watch Fellowship, The Two Towers and Return of the King all over again.
Title: The Dark Knight Rises
Release Date: July 20th
Cast: Christian Bale, Tom Hardy, Anne Hathaway, Michael Caine, Joseph Gordon-Levitt, Morgan Freeman, Gary Oldman, Marion Cotillard
Franchise Status: Threequel
Why I'm Excited: This would easily be considered the most anticipated movie of the year if every person in America had the chance to vote. There really is no reason for me to go into too much detail here since the marketing campaign for the film has been a PR hurricane. And if you haven't seen 2008′s The Dark Knight, then I ask you, what rock have you been living under the past 4 years?
This is the point where I numerically compile the list of free-standing/original films. I'm a sucker for originality when it comes to my movies, so it is safe to say that I find myself looking forward to these films more so than the franchise movies listed above because I'm just a big movie nerd.
Original Films
5.
Title: Premium Rush
Release Date: August 24th
Cast: Joseph Gordon-Levitt, Michael Shannon and Jamie Chung
Quick Plot: In Manhattan, a bike messenger picks up an envelope that attracts the attention of a dirty cop who pursues the cyclist throughout the city.
Why I'm Excited: JGL is one of my favorite actors right now as he appears in 3 movies on this list (DKR, Premium Rush and Looper). I'm also a fan of the real/practical effects used in the biking sequences in which JGL does most of his own stunts. I'm also excited for Michael Shannon's next movie role after his underrated performance in Take Shelter last year.
Note: Sorry for the ?Chinese? poster but this film is not Chinese.
4.
Title: Celeste and Jesse Forever
Release Date: August 3rd
Cast: Rashida Jones, Andy Samberg, Elijah Wood and Emma Roberts
Quick Plot: A divorcing couple tries to remain friends while they start pursuing other people.
Why I'm Excited: I firmly believe that this will not be another indie dramatic rom-com that we have all seen before. From the mostly positive buzz coming from the Sundance Film Festival, apparently Jones and Samberg have amazing chemistry. Hopefully this chemistry will breathe a sense of reality into this concept that will undoubtedly reach many people who have found themselves in similar situations.
3.
Title: Zero Dark Thirty (still unconfirmed/tenative)
Release Date: December 19th
Cast: Joel Edgerton, Mark Strong, Jessica Chastain, Kyle Chandler, Chris Pratt and Harold Perrineau
Quick Plot: The story of the Navy Seal Team 6 who tracked down wanted terrorist Osama Bin Laden.
Why I'm Excited: Bigelow,the fantastic director of The Hurt Locker, originally planned on this being an entirely fictitious story. But then it happened in real life. The mere coincidence alone is enough to get me to want to watch this movie. But after Bigelow was given top-secret details about the mission by President Obama for the movie's authenticity, it has become a must-see.
Note: There is no official poster yet. The one posted is fan-made.
2.
Title: Django Unchained
Release Date: Christmas a.k.a. December 25th
Cast: Jamie Foxx, Leonardo DiCaprio, Christoph Waltz and Kerry Washington
Quick Plot: With the help of his mentor, a slave-turned-bounty hunter sets out to rescue his wife from a cruel Mississippi plantation owner.
Why I'm Excited: Instead of being a murder consultant, Foxx has transformed himself into a bounty hunter in Quentin Tarantino's spaghetti western. With one hell of a cast and Tarantino's entire reputation giving this movie credibility, making this my #2 was damn near an impossible decision.
1.
Title: Looper
Release Date: September 28th
Cast: Joseph Gordon-Levitt, Bruce Willis, Emily Blunt and Jeff Daniels
Quick Plot: A time-traveling movie set mostly in the present where a present day assassin must take out his future self, or rebel against the mob of the future who employs him.
Why I'm Excited: I promise that if you watch the trailer, the movie doesn't look as confusing as the Quick Plot makes it sound. Bruce Willis is, in my opinion, the ultimate action star, and I'm excited for him to return to his roots and play off JGL's quick wit and dangerous charm. The director, Rian Johnson, is a personal favorite of mine and I can't wait to see what he has cooked up in his latest feature. The concept is so unique and the actors have been well cast. This is shaping up to be this year's Drive. I can't wait to see this movie.
There you have it, my most anticipated movies of the latter half of 2012. I would love to hear your thoughts on my list, and feel free to include your own in the comment section below. Now, the waiting game begins as our soon-to-be favorite movies approach…

Alex Dodson | Bright Futura Columnist
Remember to follow Bright Futura on Facebook, Twitter, or you can subscribe to our RSS feed.

Brick
"(Tolkein's) descriptions of things are really good. He makes you wanna be there." -The Pin
PLOT BREAKDOWN
Up and coming director and star duo Rian Johnson and Joseph Gordon-Levitt team up for the first time in this high school neo-noir, drug fueled, murder mystery.
Brendan (Joseph Gordon-Levitt), a smart and determined high school loner, suspects that his ex-girlfriend had fallen in with the wrong crowd after their recent break-up.
In order to clear his conscious and potentially save her life, he infiltrates his school's drug ring as he is forced to confront drug players from all different high school social standings.
Driven by Brendan's quick wit and perseverance to get all of his questions answered, this smart yet violent thriller unfolds right in front of your eyes as you uncover the truth about a brick of heroin and foul play right alongside Brendan.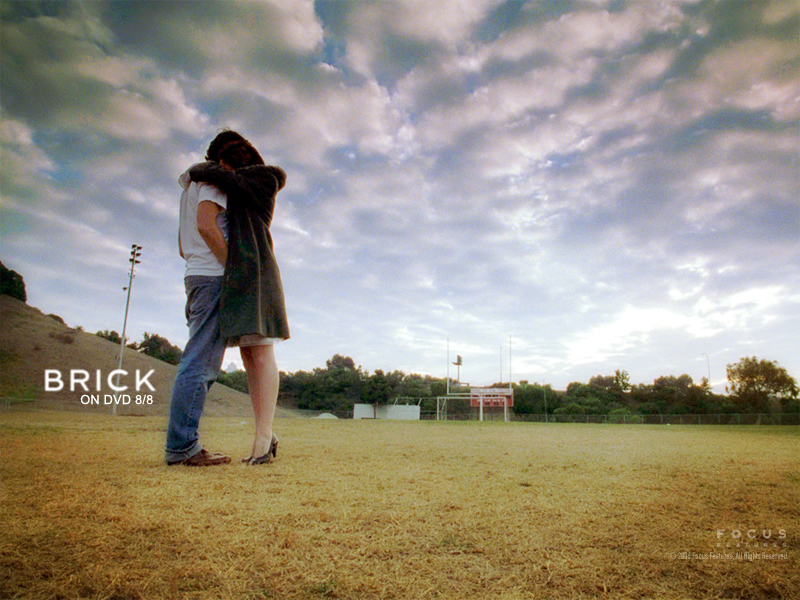 Positives
Brick is a great film. Jospeh Gordon-Levitt gives a strong performance in that you never mistake his quiet rage against the social structure of high school for some emo "I hate everyone" complex, or his ambitious intelligence for cockiness. He fits right in to the neo-noir environment director Rian Johnson has reimagined in the high school setting.
Johnson avoids the horribly cliched high school tropes that play out through different social groups in a school environment. Instead, he manipulates the social roles and crafts a magnificent detective story using every common aspect of high school life that all viewers will find relatable as well as entertaining. Just like how The Pin (Lukas Haas) describes the level of intimacy J.R.R. Tolkein provides in his level of details provided in such books as The Hobbit and The Lord of the Rings trilogy, Johnson makes you feel like you in the film and are just another student at Brendan's high school.
Negatives
The main criticisms don't apply to the movie itself, but to the genre as a whole. In noir films, the exhibition of your protagonist unfolds along with the mystery as the audience learns more about how this particular detective is personally connected to the case in a way that you weren't initially expecting. Inadvertently, you just jump right in to the beginning of the story without knowing too much about Brendan.
As well as diving right in, it may be difficult for some of the more casual viewers to enjoy the first thirty minutes or so of the film.
While there is plenty of action, the story revolves around fast and at times fairly complex dialogue, particularly between Brendan and The Brain (Matt O'Leary).
However, if you stick with it, you will develop an ear for the dialogue and the payoff is definitely worth it as the mystery continues to thicken before answers start crashing down upon you.
Closing Argument
Brick is one hell of a movie. It won the Special Jury Prize at the Sundance Film Festival in 2005 for originality of vision in a drama. That is one of the most prestigious awards given away at arguably the most important film festival in the movie industry. The film, which is anchored by Joseph Gordon-Levitt's performance and Rian Johnson's directorial vision, offers a clever return to form for any fans of solving a good mystery.
Verdict
Brick is a Must Watch!
TRAILER
Details You Might Want To Know:
Length: 110 min
Rating: R
Release date: 2005
Who's In It?
Joseph Gordon-Levitt –  Brendan
Nora Zehetner – Laura
Lukas Haas – The Pin
Noah Fleiss – Tugger
Matt O'Leary – The Brain
Emilie de Ravin – Emily
Noah Segan – Dode

Alex Dodson | Bright Futura Columnist
Remember to follow Bright Futura on Facebook, Twitter, or you can subscribe to our RSS feed.

Robotropolis
Robotropolis Finds an Innovative Way to Tell a Tired Story
"I love it. It's like totally awesome. Come on, it's robots! Doesn't get any better than that, right?"
Plot Breakdown
In a movie where the narrative is told through a news broadcast format for over 50% of the run time, the interviewees become just as important to the story as the camera guys, producers and anchors. About ten minutes into Robotropolis, a man is interviewed about whether he likes New Town, a city run entirely by robots. His overly enthusiastic response was similar to my own response when I found this obscure movie on Netflix.
Thoughts On Robotropolis
Better graphics than I was expecting and some modest gore, both of which are not overdone or totally unbelievable.
The concept alone was cool enough to capture my interest and allay any critical misgivings I might have had going in to this B movie, which is to say that this is not something that I would normally do. However, I was pleasantly surprised. The actors never try too hard to be serious, a necessity in campy movies such as this, which is comically evident from the two male leads of Jason (Edward Foy) and particularly Danny (Graham Sibley) who are cracking jokes while running for their lives.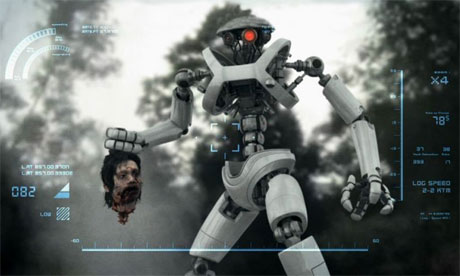 An interesting aspect of the presentation is that the final news report is sent via live feed off of a smart phone. It just goes to show that no matter how low of a budget these B movies have, the current availability and cheap pricing of advanced video technology will allow even more people the opportunity to make decent grade films for next to nothing. Evidence of this comes from better graphics than I was expecting and some modest gore, both of which are not overdone or totally unbelievable. However, all of these great things don't cover up the weak story being told.
Trailer
[youtube http://www.youtube.com/watch?v=mlHrcXS0Dj0]
Drawbacks
Weakened by its extended use of the news report narrative structure, the film is fairly slow for the first half of the film… Until the robots attack!
While the innovative story telling is definitely ambitious, you are most likely watching a movie about killer robots for the killer robots.
All killing aside, the news format does allow you to watch the first kill, which is early on in the movie, a grand total of seven times from replays for the meta-viewers who are just tuning in.
The other drawback of the news format is its field reporter, Christiane Nouveau (Zoe Naylor), who agonizingly continues to describe the deteriorating situation in New City.
Being the only "real" actress with any credibility or experience in the cast, she provides the worst performance by trying too hard. Apparently nobody told her what kind of movie she was in.
Final Remarks
Concluding with a weak response as to why the robots "turned", a lackluster climax but an ending open for interpretation
Robotropolis proved to be a fun movie to watch when I had run out of options. Watchable
Alex Dodson | Bright Futura Columnist
Remember to follow Bright Futura on Facebook, Twitter, or you can subscribe to our RSS feed.
Posted on February 2, 2012

After lecture is over and class lets out, Bright Futura Movie Club (#BFMC) begins. We at Bright Futura are dimming the lights on your busy academic schedule so you can veg out and rant or rave about the featured movie of the month.
Did it royally suck?
Was it incredible?
Did you even bother to see it?
Let us know in the comments below.