Brick: Bright Futura Movie Club

Brick
"(Tolkein's) descriptions of things are really good. He makes you wanna be there." -The Pin
PLOT BREAKDOWN
Up and coming director and star duo Rian Johnson and Joseph Gordon-Levitt team up for the first time in this high school neo-noir, drug fueled, murder mystery.
Brendan (Joseph Gordon-Levitt), a smart and determined high school loner, suspects that his ex-girlfriend had fallen in with the wrong crowd after their recent break-up.
In order to clear his conscious and potentially save her life, he infiltrates his school's drug ring as he is forced to confront drug players from all different high school social standings.
Driven by Brendan's quick wit and perseverance to get all of his questions answered, this smart yet violent thriller unfolds right in front of your eyes as you uncover the truth about a brick of heroin and foul play right alongside Brendan.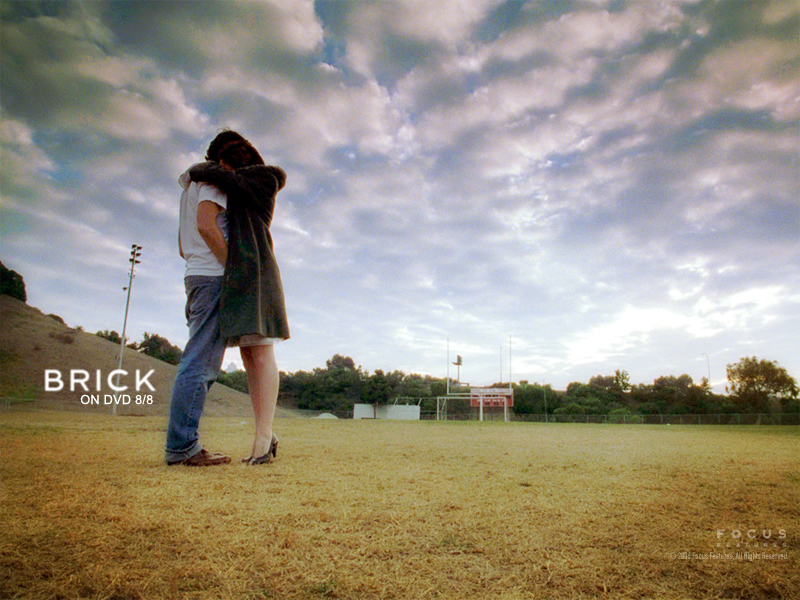 Positives
Brick is a great film. Jospeh Gordon-Levitt gives a strong performance in that you never mistake his quiet rage against the social structure of high school for some emo "I hate everyone" complex, or his ambitious intelligence for cockiness. He fits right in to the neo-noir environment director Rian Johnson has reimagined in the high school setting.
Johnson avoids the horribly cliched high school tropes that play out through different social groups in a school environment. Instead, he manipulates the social roles and crafts a magnificent detective story using every common aspect of high school life that all viewers will find relatable as well as entertaining. Just like how The Pin (Lukas Haas) describes the level of intimacy J.R.R. Tolkein provides in his level of details provided in such books as The Hobbit and The Lord of the Rings trilogy, Johnson makes you feel like you in the film and are just another student at Brendan's high school.
Negatives
The main criticisms don't apply to the movie itself, but to the genre as a whole. In noir films, the exhibition of your protagonist unfolds along with the mystery as the audience learns more about how this particular detective is personally connected to the case in a way that you weren't initially expecting. Inadvertently, you just jump right in to the beginning of the story without knowing too much about Brendan.
As well as diving right in, it may be difficult for some of the more casual viewers to enjoy the first thirty minutes or so of the film.
While there is plenty of action, the story revolves around fast and at times fairly complex dialogue, particularly between Brendan and The Brain (Matt O'Leary).
However, if you stick with it, you will develop an ear for the dialogue and the payoff is definitely worth it as the mystery continues to thicken before answers start crashing down upon you.
Closing Argument
Brick is one hell of a movie. It won the Special Jury Prize at the Sundance Film Festival in 2005 for originality of vision in a drama. That is one of the most prestigious awards given away at arguably the most important film festival in the movie industry. The film, which is anchored by Joseph Gordon-Levitt's performance and Rian Johnson's directorial vision, offers a clever return to form for any fans of solving a good mystery.
Verdict
Brick is a Must Watch!
TRAILER
Details You Might Want To Know:
Length: 110 min
Rating: R
Release date: 2005
Who's In It?
Joseph Gordon-Levitt –  Brendan
Nora Zehetner – Laura
Lukas Haas – The Pin
Noah Fleiss – Tugger
Matt O'Leary – The Brain
Emilie de Ravin – Emily
Noah Segan – Dode

Alex Dodson | Bright Futura Columnist
Remember to follow Bright Futura on Facebook, Twitter, or you can subscribe to our RSS feed.