Brainy And Famous: Celebrities With Degrees
Maybe they're just lucky, or maybe they sold their souls like Faust to achieve their wild success. Whatever the case may be, it is not fair that these people exist. You will be asking yourself "What am I doing with my life" in 5…4…3…2..
1. James Franco
Although the idea of becoming a marine zoologist interested him, Franco had always secretly wanted to become an actor but feared rejection. He enrolled at the University of California, Los Angeles (UCLA) as an English major, but dropped out after his freshman year against his parents' wishes  to pursue a career as an actor, since he would have to have waited two years to audition for their acting program. Franco instead chose to take acting lessons with Robert Carnegie at the Playhouse West. Some time passes and James Franco becomes wildly successful. Talk About A Happy Ending!
2. John Stewart
Stewart is all laughs now but he too spent countless hours burying his face into college textbooks.
Young John Stewart graduated in 1984 from The College of William & Mary, where he majored in psychology and played on the soccer team.
While at W&M, Stewart became a brother of the Pi Kappa Alpha Fraternity.
3. Michael Vick
Before Vick was violently torturing animals and even before he played for the Atlanta Falcons, he was a college kid just like you. Vick played college football at Virginia Tech, where as a freshman he placed third in the Heisman Trophy balloting. He left after his sophomore year to enter the NFL and was drafted first overall by the Atlanta Falcons in the 2001 NFL Draft. He became the first African-American quarterback to be selected first overall in an NFL Draft.
4. Ron Jeremy
Jeremy actually never intend on going into pornography. Before he jumped into the world of professional fornicating, he was a teacher after earning a masters in special education from Queens College.
He was actually working as a special ed teacher throughout the New York City school system when he was then girlfriend sent a naked photo of him to Playgirl and the images that appeared in the magazine earned him a truckload of fan mail and offers to do adult features.
5. Donald Glover
Before he was a writer for 30 Rock, had his own Comedy Central Special, acted in Mystery Team, released mix tapes as Childish Gambino, or acted as Troy on Community, Donald Glover was a poor college lad just like us. Donald was also a Resident Advisior (RA) at New York University where he earned a degree in Dramatic Writing in 2006.
6. Natalie Portman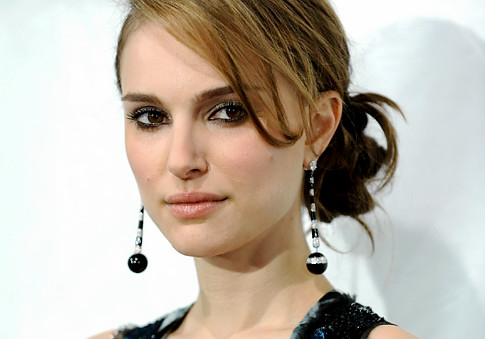 Golden Globe winner Natalie Portman skipped the premiere of her international box office hit role in the The Phantom Menace as Queen Amidala to study for her final exams. Her final by the way was at Harvard, where she earned a B.A. degree in psychology.
By the time she got her bachelor's, she had studied four languages in addition to Hebrew, the language of her birth, had been published in professional science journals twice, killed a butt load of aliens, and generally made us look like big human-shaped piles of poo.
Seriously, when we were 10 years old, we wanted to be doctors or space cowboys or, at the very least, fire fighters. The closest we've gotten so far is one of those little shiny red fireman helmets.
Natalie also starred as anarchist apprentice Evey Hammond in the terrorist fable V for Vendetta and as a super looney ballerina in Black Swan.
7. Jamie Foxx
Foxx attended Terrell High School, where he received top grades, played basketball and football as quarterback, and had an ambition to play for the Dallas Cowboys. After completing high school, Foxx unfortunately only received a scholarship to United States International University, where he studied classical music and composition. Sadly his dream of playing for the Cowboys never came true and he had to settle with an Academy Award for his role in Ray.
8. Ken Jeong
Before his roles in movies like The Hangover, Role Models, and NBC's network show Community, Jeong was once a Medical Doctor.
Ken Jeong graduated at 16 and his achievements earned him Greensboro's Youth of the Year award.
He completed his undergraduate studies at Duke University in 1990 and attained his medical degree at the University of North Carolina at Chapel Hill in 1995.
He then completed his Internal Medicine residency at Ochsner Medical Center in New Orleans while developing his stand-up comedy.
9. Dwayne "The Rock" Johnson
Before he was slamming people on WWE and in movies like The Run Down, The Rock was crushing pop quizzes in lecture halls at the University of Miami. Johnson was heavily recruited by many Division I collegiate programs but ultimately accepted a full scholarship from the University of Miami to play defensive tackle. In 1991, he was part of the Miami Hurricanes' national championship team. Johnson graduated from Miami in 1995 with a Bachelor of Science degree in criminology and physiology.
10. Shaquille O'Neal
Before Shaq was Kazaam he was a freshman that played ball at Louisiana State University. And although he left early to join the NBA, he returned in 2000 to complete a bachelor's degree in general studies. But grad school is where he stepped it up, enrolling online in the University of Phoenix and earning his MBA in 2005. Most multi-millionaires get the degree before the wealth, but Shaq's a beast like that. Regardless of his degree he still can't master a free throw.
These aren't the only celebrities with degrees, if you know another leave it in the comments below and we'll add it to the post.
Maximillian Garland | Bright Futura Columnist
Remember to follow Bright Futura on Facebook, Twitter, or you can subscribe to our RSS feed.