10 Types of Clothing that need to go after college
Everyone wants to be taken seriously after college, both personally and professionally. After graduation comes the real world, and the real world requires a real wardrobe. There is no longer an excuse to appear unkempt. It's time to rethink what you put on before you walk out the door each morning.
1. UGGs
Years ago a fairly unknown Australian brand started a revolution: UGG boots. If worn for their intended purpose of warmth, UGGs are completely acceptable. However, wearing UGGs with shorts is never okay. UGGs are not aesthetically pleasing and leather-riding boots are just as easy to throw on.
2. Greek letters
Wearing Greek organization letters after graduation should be limited. Most people outside of college don't care if you were the president of Kappa Kappa Gamma, or if you were the social chair of your fraternity. Yes, those are things to take pride in, but your collection of party t-shirts is better worn in private. A cotton t-shirt serves a suitable replacement, and is also age appropriate.
3. Sweatpants
Sweatpants are not chic, plain and simple.
They scream laziness and essentially have no function.
If you need to stay warm on your way to and from the gym, you can buy thermals. There are, of course, many variations of the sweat pant, some more attractive than others, but it's best to wear them in the comfort of your own home.
4. Leggings
Contrary to popular belief, leggings are not pants. Leggings were originally designed to protect legs during exercise, never meant to be a fashion statement. Instead of wearing leggings under a dress or skirt, wear opaque tights. If you feel the need to wear a pair of skin-tight trousers, put on skinny jeans.
5. Velour tracksuits
Juicy Couture tracksuits were cool in middle school. Velour is not attractive and unflattering on most body types. Tracksuits are often worn in airports, but there are other ways to dress comfortably while traveling. A long tunic over a slimming pant makes a stylish alternative.
Put a little more effort into your everyday routine and refresh yourself for the next chapter of life. If you take yourself seriously, so will others.
6.  Crocs
Sorry guys but these shoes aren't really classified as shoes in the fashion world.
Sure they're comfy and come in every shade of the rainbow, but these frumpy clods of rubber should never leave your dorm.
They make great houseshoes, but that's it.
7. Pajamas
It's likely that you were running on less than six hours of sleep when you donned those flannel concoctions to class. But pajamas are just plain tacky. Remember guys, just because you roll out of bed 20 minutes before class starts, that doesn't mean you have to look like you did.
8. Popped Collars
I believe this picture conveys the ridiculousness of this trend. For the sake of everyone please retire this vile concept immediately after college if not sooner.
9. High school labels
This trend always seems to be re-instated every year with incoming freshmen. Sorry newbies, but Hollister and Abercrombie labels do not belong in college. Though those labels that were plastered all over your T-shirts in high school were a fashion must-have, they're not fashionable for adults.
10. Extra Large T-Shirts: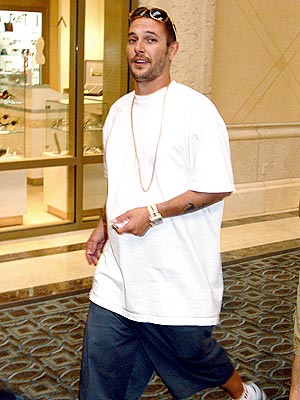 This trend should have never existed in the first place. While college is a place of discovery, there are certain exceptions.
What are some other clothing items that should be retired after graduation?